San Diego Stamped Concrete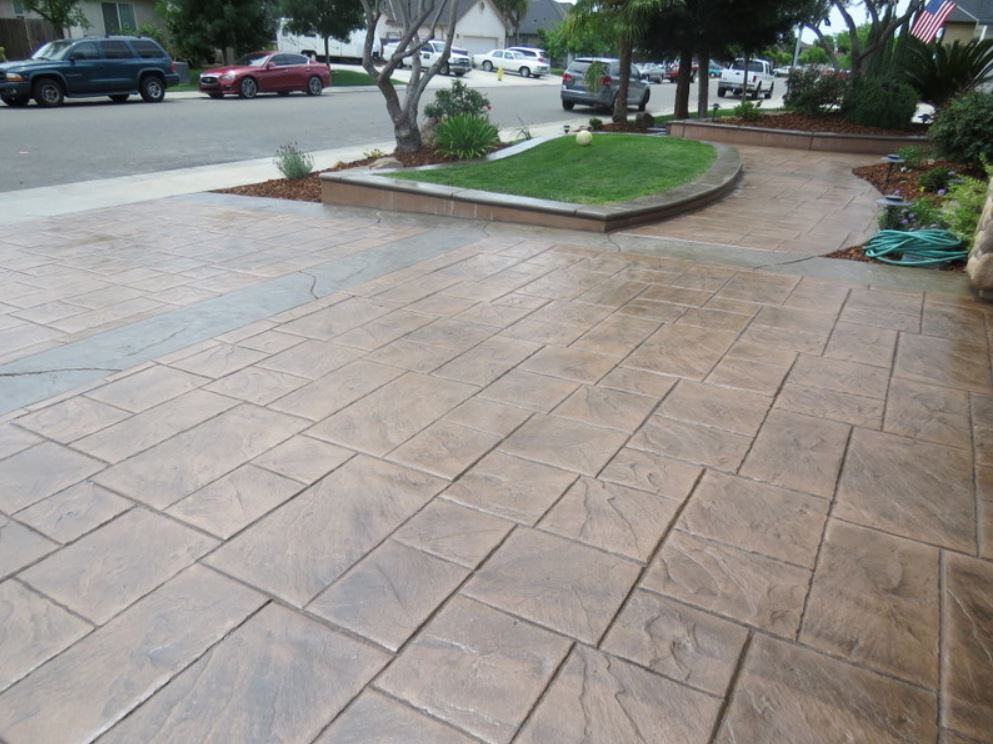 If you are looking for a new way to spruce up your outdoor living space, consider adding stamped concrete. Stamped concrete is an affordable and practical option that can be customized with any color or pattern imaginable! These days, homeowners are using stamped concrete as a way to express their creativity while also achieving the aesthetic they want at the same time.
The best part? Stamped concrete has many advantages over other types of surfaces because it looks great year-round, requires little maintenance, and doesn't need to be replaced every few years. If you're ready to turn your backyard into an oasis this summer season, contact us at (619) 940-1580! We have plenty of options available for people in San Diego County.
About San Diego Concrete Company
San Diego Concrete Company is a professional San Diego concrete contractor that has been serving the county for over a decade. The company provides high-quality stamped and stained concrete floors, driveways, walkways, patios, and pool decks to residents throughout California. Our experts are committed to providing our customers with professional service and industry-leading products at affordable prices.
Advantages of Stamped Concrete
There are many advantages to using stamped concrete. First, the process is very affordable. Stamped concrete can also last for decades without showing signs of wear or needing a replacement! The color possibilities are endless with stamped concrete because you can choose from hundreds of different hues, patterns, textures, and finishes. Finally, it's incredibly easy to maintain your stamped concrete surface over time – just sweep away the dirt on a regular basis and give the surface another sealant coat every few years!
Disadvantages of Stamped Concrete
While we definitely love stamped concrete, there are a few disadvantages to keep in mind. Stamped concrete requires constant maintenance and sealant coats every couple of years to ensure your surface stays attractive and durable over time. Also, the color choices may be limited depending on which patterns you go with.
Stamped Concrete Patterns
There are many different options for choosing stamping patterns when resurfacing your home's existing patio or driveway space – our team can help you come up with custom ideas that suit your specific needs! Here are some classic examples:
Chevron Stripes – these bold lines give off an elegant appeal while also making it easier to draw attention toward focal points within the backyard or outdoor living area. The final result is always stunning and unique.
Herringbone – these distinctive lines create a fun and playful pattern that perfectly captures the essence of California living. Herringbone is also very versatile! You can use it as an accent for your backyard, pool deck, or patio space.
Linear Stripes – this classic design features long horizontal stripes, which may be perfect for those who want to keep things simple and traditional. Linear stripes are easier than some other patterns, such as herringbone, because they require less upkeep overall. This look works well with poolside!, patios, driveways – just about anywhere in San Diego County.
Concrete Staining & Color Enhancement Options
There are many options when it comes to making stamped concrete stand out even more than before! You can achieve the custom look you want by choosing certain stains or color enhancers.
Rust-Oleum Concrete Stain
If you like the idea of adding some extra rustic flair to your stamped concrete surface, then our experts at San Diego Concrete Company recommend taking a closer look at this line! It comes in three colors that are perfect for indoor and outdoor spaces – Ebony, Umber, and Sterling Gray. These top coatings will last for years without fading away, which is great news! 
Acid Stains
These special types of acid stain give off an elegant appeal while breathing new life into existing surfaces such as driveways, pool decks, patios, sidewalks, garage floors & more! The best part about acid stains is that they can last for decades without wearing away or showing signs of wear and tear.
Highlighters
If you want to add some extra pop in terms of color, then this option may be perfect for you! Our San Diego Concrete Company team uses a special process that involves adding liquid glass crystals into the surface when we apply your custom stamped concrete pattern. This creates an eye-catching shimmer effect that looks great during the day & even better with any surrounding lighting at night time.
Choose San Diego Concrete Company for Stamped Concrete
At San Diego Concrete Company, we provide our customers with the highest quality stamped concrete services in San Diego. We offer free estimates for any work you may need to complete on your home or business property, so don't hesitate to call us at (619) 940-1580. Reach out today if you'd like more information about what it takes to transform an existing surface into something spectacular.